"Muddy water, let stand, becomes clear."
–Lao Tzu

I loved creating today's Visual Inspiration for you. This is one of my most favorite quotes. It was shared with me by a dear friend, Father Paul Keenan, who used to write a column for SoulfulLiving.com, but who passed away five years ago. I remember telling Father Paul about a dream I had about "water" and "inner peace" and he emailed me this quote. I'll never forget that. Such a beautiful soul. I miss him so much!
I took this photo in the Adirondack Mountains early last autumn, one evening at twilight. I was living in a cabin not far from this body of water. The emotions that wash over me, as I gaze at this photo today, connect me so clearly to that moment. It triggers feelings of deep peace, silence, calmness, and tranquility. Blissful!
I hope you enjoy the Visual Inspiration as much as I enjoyed creating it!  ♥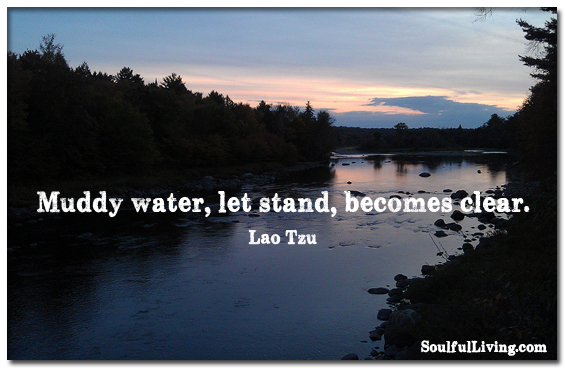 If you feel inspired, I'd love to have you leave a comment below!
And, if you haven't already done so, be sure to pick up your special package of inspirational goodness exclusively for our Daily Soul Retreat Newsletter Subscribers — a "Soul Retreat Gift Pack" filled with over $300 worth of Ecourses, Ebooks, Audio Workshops and Meditations, donated by our awesome SoulfulLiving.com authors. If you aren't already subscribed, click here for all the details. If you are already subscribed, watch your Daily Soul Retreats for all the details.
Wishing you a peaceful, tranquil day!!
Soulfully,
Valerie
© 2013 Valerie Rickel. All Rights Reserved.