"You will recognize your own path when you come upon it,
because you will suddenly have all the energy and imagination you will ever need."
—Jerry Gillies
I enjoyed creating this Visual Inspiration for you, in keeping with our theme of the month, "Life Purpose."
I took this photo at sunset in Upstate New York on an early spring day. It is of an old farm road, which is flanked on both sides by farm fields dotted with lovingly preserved historic oak trees. It is truly a breathtaking place to visit and sure to make any passerby take pause to drink in its beauty.
I love this quote, because I have found it to be so true in my life. I always know when I am on my purposeful path, because I will suddenly find myself gifted with an unstoppable flow of energy and imagination. Do you find that to be true, too?
Leave a comment below and share your thoughts with our community ♥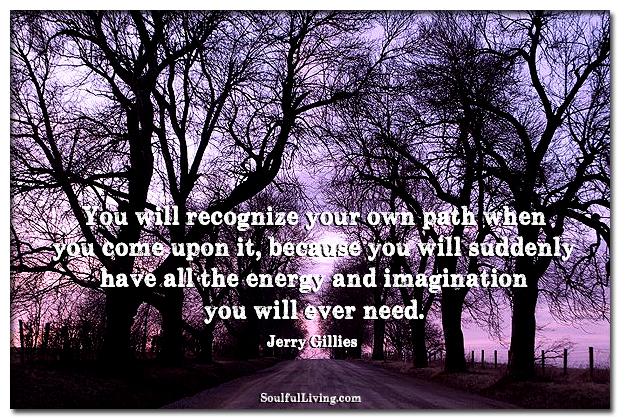 And, if you haven't already done so, be sure to pick up your special package of inspirational goodness exclusively for our Daily Soul Retreat Newsletter Subscribers — a "Soul Retreat Gift Pack" filled with over $300 worth of Ecourses, Ebooks, Audio Workshops and Meditations, donated by our awesome SoulfulLiving.com authors. If you aren't already subscribed, click here for all the details. If you are already subscribed, watch your Daily Soul Retreats for all the details.
Wishing you a wonderful day filled with lots of energy and imagination!!
Soulfully,
Valerie
© 2013 Valerie Rickel. All Rights Reserved.