"Let us be grateful to people who make us happy; they are the charming gardeners who make our souls blossom."
—Marcel Proust
I had great fun creating this Visual Inspiration for you today — in keeping with our theme of the month, "Joy." It features one of my favorite quotes, as I feel very blessed to have many "charming gardeners" in my life.
I'd love to share a comment that one of our soulful readers sent to me yesterday morning. It made me so happy to know that my newsletters brighten her day and are meaningful in her life.
"I just wanted to tell you how much I appreciate your website. There are so many email subscriptions I've signed up for that I never open but I love opening yours and they're always a gift to me. Thank you! Thank you! Thank you!" —Sue S.
Thank you, Sue! You are a "Charming Gardener" in my life 🙂
Tomorrow's issue of our Daily Soul Retreat will wrap up our "Month of Joy"! If you would like to read more on the topic of Joy and Happiness, visit our website, SoulfulLiving.com for many terrific articles.
Excited to know what topic we'll be exploring in the month of September? Be sure to open your Daily Soul Retreat on Tuesday, Sept 3rd. I promise it will make you feel happy and peaceful…
Enjoy ♥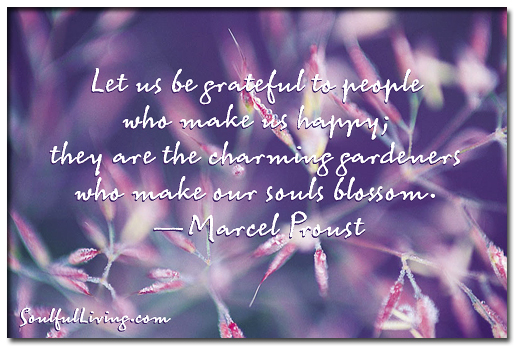 And, if you haven't already done so, be sure to pick up your special package of inspirational goodness exclusively for our Daily Soul Retreat Newsletter Subscribers — a "Soul Retreat Gift Pack" filled with over $300 worth of Ecourses, Ebooks, Audio Workshops and Meditations, donated by our awesome SoulfulLiving.com authors. If you aren't already subscribed, click here for all the details. If you are already subscribed, watch your Daily Soul Retreats for all the details.
Wishing you a beautiful and joyful day!!
Soulfully,
Valerie
© 2013 Valerie Rickel. All Rights Reserved.