The self must know stillness before it can discover its true song.
—Ralph Brum

I fell in love with this quote when I discovered it and knew immediately that it was perfect for today's Daily Soul Retreat as we begin to wrap up the final week of our "Life Purpose" theme.
I'm a strong believer in the importance of getting quiet, still, silent, in order to hear the whispers in our heart — our truth — our soul's calling.
As a society, we're enveloping ourselves in so much noise, technology, distraction, and chaos that we don't even realize how overstimulated we've become. There is so much external stimulation in our daily worlds, it is nearly impossible for us to connect with our inner selves — our true selves, until we unplug, get quiet, meditate, or go to a place of peacefulness and silence.
For me, I hear my heart stirrings when I am in nature. The photo I used for today's Inspiration was taken at dusk at a favorite spot of mine — a silent, peaceful lake in the Adirondacks.
I hope today's Visual Inspiration awakens a stirring inside of you to seek out silence, get still and listen… and discover your true song!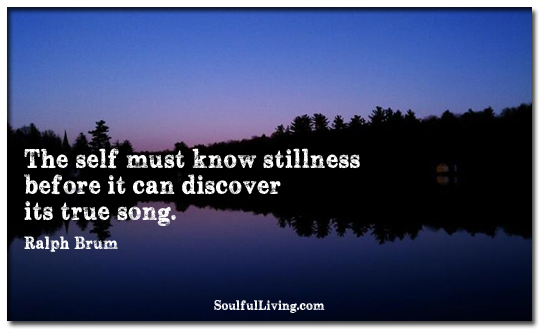 Here are a few articles at SoulfulLiving.com on the topics of inner peace and stillness:
"Stillness Speaks" by Eckhart Tolle
"Inner Peace: The Path with Heart" by Diane Dreher
"The Healing Power of Silence" by Robert Rabbin
"Meditation as a Path to Inner Peace" by Jim Dreaver
"A Sanctuary of Stillness" by Genece Hamby
Enjoy!
And, if you haven't already done so, be sure to pick up your special package of inspirational goodness exclusively for our Daily Soul Retreat Newsletter Subscribers — a "Soul Retreat Gift Pack" filled with over $300 worth of Ecourses, Ebooks, Audio Workshops and Meditations, donated by our awesome SoulfulLiving.com authors. If you aren't already subscribed, click here for all the details. If you are already subscribed, watch your Daily Soul Retreats for all the details.
Wishing you a peaceful and purposeful day!!
Soulfully,
Valerie Rickel, Founder
SoulfulLiving.com
© 2013 Valerie Rickel. All Rights Reserved.