"If I love myself, I love you. If I love you, I love myself."
―Rumi
Good morning and happy Wednesday! I have a lovely article for you today by husband and wife authors, Judith Sherven and James Sniechowski, called, "The Art of Romance: Love and Be Loved, Every Day of Your Life." Judith and James are authors of many books, including "Be Loved For Who You Really Are" and "The New Intimacy."
I enjoyed their article so much, I was inspired to create a Visual Inspiration for you today, too, with the wonderful quote by Rumi that they discuss in their article.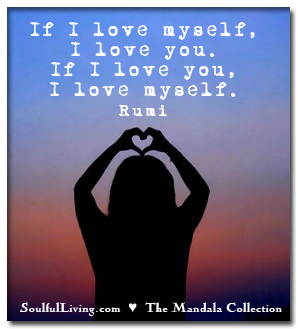 Enjoy ♥
"The Art of Romance: Love and Be Loved, Every Day of Your Life"

by Judith Sherven & James Sniechowski

What one thing do you most want to know about love and relationship?
Recently we surveyed approximately 10,000 men and women asking that question. Ninety-five percent of those responding wanted to know how to keep romance alive throughout a relationship and marriage. No surprise. During our fifteen years working with singles and couples it's been romance that has been the most desired as well as the most illusive of all relationship experiences. More than sex. More than good communication. More than family.
But what is romance?
That's not a question with an easy answer. It's the kind of thing that you know when you see it, and certainly yearn for it when it's absent, but putting it into words leaves most people tongue-tied. So, before we can know how to keep it alive in our relationships, we need to identify just what it is we are after.
CONNECTEDNESS
When we experience romance we experience a quality of being transported, of being moved by an extraordinary moment of feeling, almost another dimension of feeling. And it is not by thought but by feeling that we can confidently say, "This is romance." Through this special feeling we are extended beyond our everyday sense of self into an experience of unity and wholeness, a deep, spiritually rich connectedness with another person, and through that person to the wonder that is the whole of life. The separateness that is so much a part of most people's daily life vanishes, even if only for a moment. And that is what is so extra-ordinary about romance. It may be fleeting but it leaves a mark on our senses and in our memory and it can stay with us for days if not years. No wonder romance is so desired.
Also, in the romantic moment we feel connected with another person without ever losing our sense of self. There is a profound oneness but not sameness, as the unique differences that two people bring to the moment are embraced. We remain ourselves, with an intense sense of our self, while in sweet and satisfying connection with another. And that allows us to feel truly loved. That allows the romance to be appreciated by each person in their own way.
As the poet Rumi says, "If I love myself, I love you. If I love you, I love myself." By contrast, when we are steeped in a fantasy of romance, in the idea instead of the reality of romance, there is no connection and, as a result, no satisfaction. Why? Because we are fused with a ghost, a mere image that we are more loyal to than the flesh and blood reality. We are trapped in a dreamy castle of our own making, unconsciously insisting that our make-believe world will bring us what we want. Ironically, the person making-believe and the ghostly product of that make-believe are one and the same. The person is bound within their own spell, enclosed within their own expectations, ultimately unable to let anyone in.
Romance thrives only in that which is real and in the very distinct reality of two different people.
IMAGINATION
Imagination is at the heart of romance, but not when it serves the concoction of mere fantasy.
The best way to distinguish between these divergent paths is to identify fantasy as those envisionings which may even be pleasant and sometimes erotic, but that are never challenged. In fantasy everything goes the way we want it to. Even if we inject a little opposition to add drama, we still get everything we want, and more importantly, in just exactly the way we want.
On the other hand, imagination is that soul-filled experience wherein we apply the power of our creative imaging to manifest what we want in the world. With regard to romance, that involves another person who cannot help but impact our expectations differently than we anticipated. This is unavoidable because s/he is different, with a mind of their own, but more to the point, with an experience and expression of romance that will be uniquely their own…
Continue Reading "The Art of Romance"
Copyright Judith Sherven & James Sniechowski. All Rights Reserved.
I'd love to hear your thoughts and comments on this article! Please scroll down and leave your comments below.
And, if you haven't already done so, be sure to pick up your special package of inspirational goodness exclusively for our Daily Soul Retreat Newsletter Subscribers — a "Soul Retreat Gift Pack" filled with over $300 worth of Ecourses, Ebooks, Audio Workshops and Meditations, donated by our awesome SoulfulLiving.com authors. If you aren't already subscribed, click here for all the details. If you are already subscribed, watch your Daily Soul Retreats for all the details.
Wishing you a day filled with much love and romance!
Soulfully,
Valerie