"Worrying is like praying for what you don't want."
—Unknown

Happy Monday! I hope you enjoyed a wonderful weekend!
I've created a Visual Inspiration for you today in keeping with our theme for the month of November — "Positivity." I remember how I felt the first time I heard these words: "Worrying is like praying for what you don't want." I was startled because the words rang so true. I had never thought about "worrying" like that before and vowed from that moment forward to monitor my thoughts and try to always keep them positive. Of course, it's nearly impossible not to worry, but, I must say that I  worry a lot less than I used to, and when I catch myself worrying, I quickly switch my focus to a positive outcome — on what I do want in my life. I hope you'll join me today in vowing to focus on the positive — what you do want, instead of what you don't.
I've paired today's inspirational thought with a photo I captured at sunset several years ago among a beautiful, historic grove of oak trees in Upstate NY in late November. I love the way the image conveys the essence of today's words. The sun seems so hopeful and positive — something to focus on…
Enjoy ♥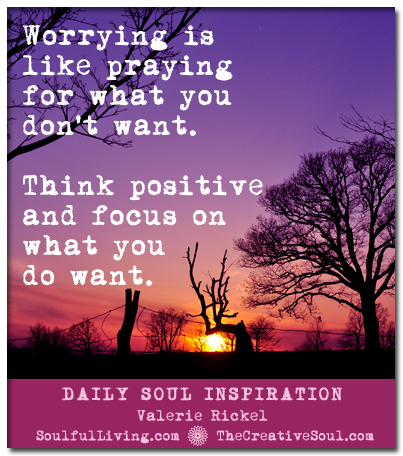 I'd love to hear your thoughts and comments! Please scroll down and leave your comments below.
Wishing you a positive and worry-free day!!
Soulfully,
Valerie Rickel
Founder
SoulfulLiving.com