Happy people have two things in common. They know exactly what they want and they feel they're moving toward getting it. That's what makes life feel good: when it has direction, when you are heading straight for what you love.
—Barbara Sher

Today, I have a Visual Inspiration for you, in keeping with our theme of the month, "Joy."
I absolutely love author Barbara Sher's work and her many wonderful books, including:
This quote of hers feels particularly true for me. When I have a clear plan in mind for my life and my work and am working successfully toward making the plan come true and can see my dream coming alive, I feel a wonderful sense of joy and satisfaction. I often feel this way when creating SoulfulLiving.com. I get that wonderful "on top of the world," "fully alive" feeling.
How about you? Do you find this to be true, too? Do you have an experience to share? Leave a comment below and share your thoughts with our community.
I hope you enjoy today's Visual Inspiration ♥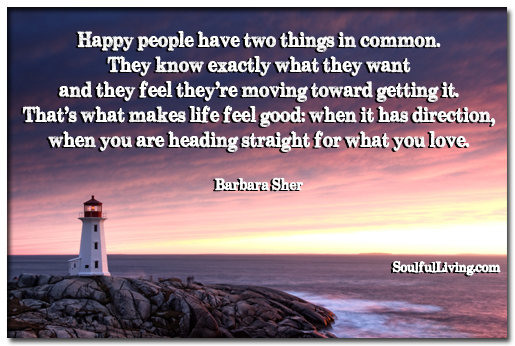 And, if you haven't already done so, be sure to pick up your special package of inspirational goodness exclusively for our Daily Soul Retreat Newsletter Subscribers — a "Soul Retreat Gift Pack" filled with over $300 worth of Ecourses, Ebooks, Audio Workshops and Meditations, donated by our awesome SoulfulLiving.com authors. If you aren't already subscribed, click here for all the details. If you are already subscribed, watch your Daily Soul Retreats for all the details.
Wishing you a happy day!!
Soulfully,
Valerie
© 2013 Valerie Rickel. All Rights Reserved.