"A harvest of peace is produced from a seed of contentment."
(Kashmiri Proverb)

I loved creating this Visual Inspiration for you today — in keeping with our theme of the month, "Inner Peace." This photo is very special to me, as I remember the experience of capturing the image so vividly. It was a mid-autumn day several years ago, in the late afternoon, and the sun was casting her magical late-afternoon light all over this gorgeous farm field in Upstate New York. The clouds in the sky were ominous. I remember how when I saw this surreal scene, with its blissful light and rich colors, I felt such a strong connection to the Divine. It was an Eternal moment. My Nirvana. It was just so beautiful, I was overcome with emotion.
My search to find a quotation to match this special photo turned out to be no easy task, however. I wanted a quote themed around "autumn" and "finding inner peace." I had difficulty finding one and almost gave up, but with a just little further searching, I found this one and knew it was meant to be!!
I hope you enjoy the Visual Inspiration as much as I enjoyed creating it!  ♥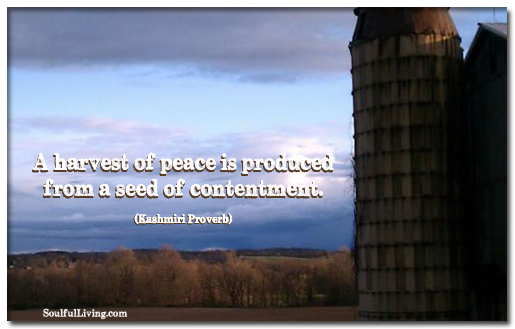 If you feel inspired, I'd love to have you leave a comment below!
And, if you haven't already done so, be sure to pick up your special package of inspirational goodness exclusively for our Daily Soul Retreat Newsletter Subscribers — a "Soul Retreat Gift Pack" filled with over $300 worth of Ecourses, Ebooks, Audio Workshops and Meditations, donated by our awesome SoulfulLiving.com authors. If you aren't already subscribed, click here for all the details. If you are already subscribed, watch your Daily Soul Retreats for all the details.
Wishing you a peaceful and content day!!
Soulfully,
Valerie
© 2013 Valerie Rickel. All Rights Reserved.