"Your true nature is purity, peace, and joy."
—Sai Baba
I've created a Visual Inspiration for you today. Simple, pure and joyful.
I remember looking down and finding this cute fuzzy caterpillar making circles around my feet as I sat on a bench gazing out over a lovely lake in Upstate NY, this time of year, a few years ago. I recall sitting there with conflicted feelings and thoughts rumbling through my mind, in my ongoing search for a place to call "home"… Did I want to stay in beautiful New York, or did I want to explore the Northeast region of our country further… Questions, questions. I was sitting there searching for answers. And, there, below me, was this beautiful, bright-white, pure creature circling my feet, likely doing the very same thing… searching for his home… a place to pupate and transform himself. It was a joyous moment for me, as I love to find meaning and symbolism in life's most simple moments.
I thought this photo was the perfect pairing for this wonderful quote by the Indian Guru Sai Baba. May his words inspire your day and your weekend!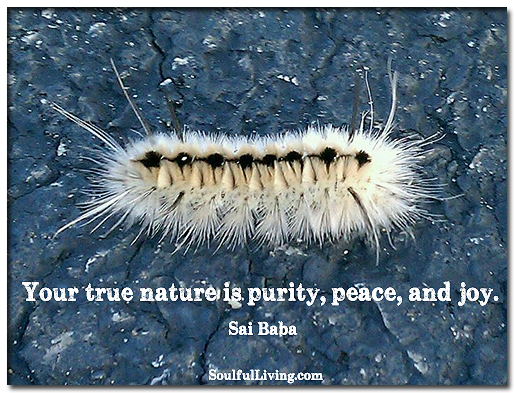 If you're feeling inspired, I'd love for you to leave a comment below ♥
And, if you haven't already done so, be sure to pick up your special package of inspirational goodness exclusively for our Daily Soul Retreat Newsletter Subscribers — a "Soul Retreat Gift Pack" filled with over $300 worth of Ecourses, Ebooks, Audio Workshops and Meditations, donated by our awesome SoulfulLiving.com authors. If you aren't already subscribed, click here for all the details. If you are already subscribed, watch your Daily Soul Retreats for all the details.
Wishing you peace and joy!!
Soulfully,
Valerie
© 2013 Valerie Rickel. All Rights Reserved.