"It is the life of the crystal, the architect of the flake,
the fire of the frost, the soul of the sunbeam.
This crisp winter air is full of it."
—John Burroughs, "Winter Sunshine"

Good morning! The winter solstice is on Saturday, and, although I've been shoveling feet of snow somewhat begrudgingly the last few days here in the Northeast, the very fact that winter is almost "officially" here, has me in a joyous spirit and ready to celebrate the season! How about you?
I've created a Visual Inspiration for you today featuring one of my most favorite winter photos paired with a marvelous quote by writer and naturalist John Burroughs, from his essay, "Winter Sunshine."
The memory of taking this photo is vivid in my mind. Although it was three winters ago, it feels like yesterday. It was 10 degrees outside, and despite the freezing temperature, I stood in awe, snapping photos for nearly an hour, until the very last light. I had been driving home at the end of a full day of shooting photographs along a lovely lake in Upstate New York, and, as I was driving, I caught a glimpse of the most incredible colors in my rear-view mirror and quickly turned off the road to look back in the direction of the setting sun. Just moments earlier, the sky was dull and lifeless, and, now, only moments later, it had exploded with color! (I've learned that some of the very best sunsets here in the Northeast are often right after you think the show is all over! Lol.) I just love how the setting sun's light rays danced and played on the frozen surface of the lake that evening, reflecting their fiery color in the swirling patterns of ice. When I read the line, "The fire of the frost," in this essay by Burroughs, I knew it was perfect quote for this photo!
Enjoy ♥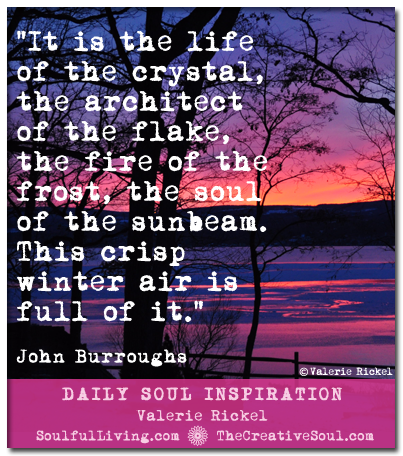 ~Valerie Rickel, Founder of SoulfulLiving.com