"Release the joy that is inside of another,
and you release the joy that is inside of you."
-Neal Donald Walsch
Good Morning Beautiful Souls! Just a quick post today… I'm suffering with an allergic reaction to an ingredient in a gluten-free food I ate earlier this week and have been down for several days. I have never experienced a reaction like it, and it's testing my level of joy a bit this week… My face is so puffy, I'm having trouble opening my eyes and my body is bright red, prickly and itchy. Such discomfort! Thank goodness for Benadryl. But, despite my sorry state, creating some joy in the world today is bringing me joy. And, that's what it's all about!
There is a lovely grove of sunflowers that I am greeted by each day, and their great big, smiling faces always bring me cheer! Their bright yellow color shines brightly in the summer sun and they are such fascinating looking flowers. I feel so grateful to be in their presence.
This sunflower photo seemed like the perfect pairing for today's Visual Inspiration, in keeping with our "Joy" theme. This is one of my favorite quotes by Neal Donald Walsch. It's such a great quote and isn't it the truth? I hope you enjoy it!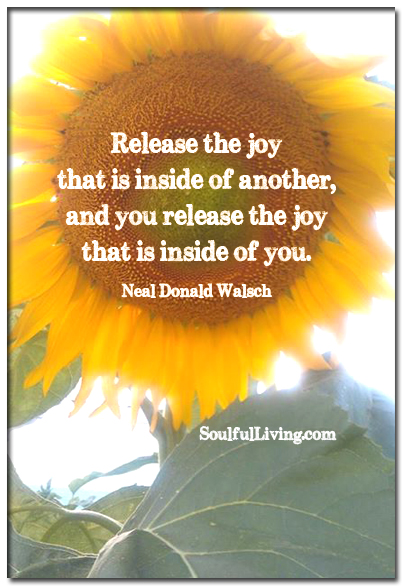 If you're feeling inspired, please leave a comment below and share your thoughts with our community ♥
And, if you haven't already done so, be sure to pick up your special package of inspirational goodness exclusively for our Daily Soul Retreat Newsletter Subscribers — a "Soul Retreat Gift Pack" filled with over $300 worth of Ecourses, Ebooks, Audio Workshops and Meditations, donated by our awesome SoulfulLiving.com authors. If you aren't already subscribed, click here for all the details. If you are already subscribed, watch your Daily Soul Retreats for all the details.
Wishing you a cheerful, bright day!!
Soulfully,
Valerie