"Life is a series of natural and spontaneous changes. Don't resist them – that only creates sorrow.
Let reality be reality. Let things flow naturally forward in whatever way they like."
—Lao Tzu

Happy Monday! I'm excited to share a Visual Inspiration with you today, featuring one of my favorite quotes by ancient Chinese philosopher and founder of Taoism, Lao Tzu.
These words resonate with me so much. I've always found peace and joy when I allow things to flow naturally in my life. Do you find this to be true, too?
This photo was taken in the Adirondacks of New York by a good friend of mine and seems to convey the message of this quote quite perfectly.
I hope today's Visual Inspiration brings you inner peace! Enjoy ♥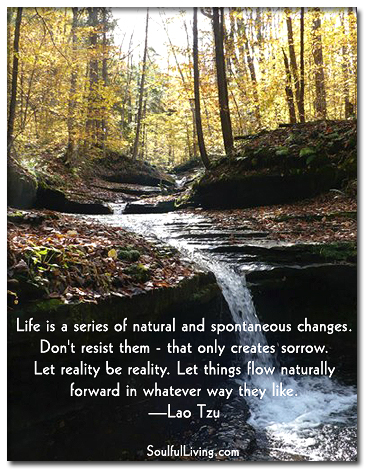 If you're feeling inspired, please leave a comment below and share your thoughts with our community ♥
And, if you haven't already done so, be sure to pick up your special package of inspirational goodness exclusively for our Daily Soul Retreat Newsletter Subscribers — a "Soul Retreat Gift Pack" filled with over $300 worth of Ecourses, Ebooks, Audio Workshops and Meditations, donated by our awesome SoulfulLiving.com authors. If you aren't already subscribed, click here for all the details. If you are already subscribed, watch your Daily Soul Retreats for all the details.
Wishing you a peaceful day!!
Soulfully,
Valerie Rickel, Founder
SoulfulLiving.com