"Change your thoughts and you change your world."
― Norman Vincent Peale
Good morning! I hope you are enjoying a beautiful day! I had planned to design a Visual Inspiration for you today, but when I saw this extraordinarily beautiful inspirational poster come through my Facebook feed this morning, I knew that it was destined to be today's Daily Soul Retreat! =) Particularly, since I was, "rather synchronistically," thinking of creating a Visual Inspiration with the exact same quote!
The creator of this gorgeous poster is Lynda Field, who is one of the most established life coaches in the UK. Enjoy and be sure to pay a visit to Lynda Field's website for more inspiration. You can visit her page on Facebook too!
Enjoy ♥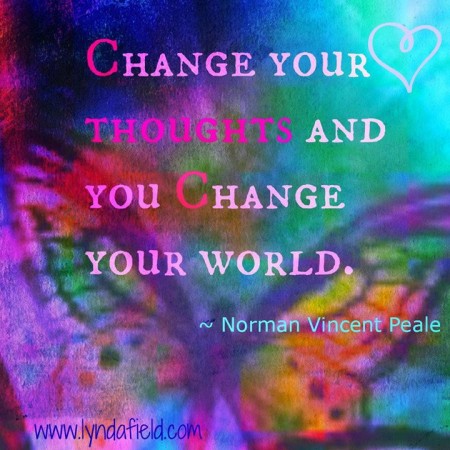 © 2014 Lynda Field. All Rights Reserved.
I'd love to hear your thoughts and comments! Please scroll down and leave your comments below.
And, if you haven't already done so, be sure to pick up your special package of inspirational goodness exclusively for our Daily Soul Retreat Newsletter Subscribers — a "Soul Retreat Gift Pack" filled with over $300 worth of Ecourses, Ebooks, Audio Workshops and Meditations, donated by our awesome SoulfulLiving.com authors. If you aren't already subscribed, click here for all the details. If you are already subscribed, watch your Daily Soul Retreats for all the details.
Wishing you a beautiful day!
Soulfully,
Valerie