"All the things that truly matter — beauty, love, creativity, joy, inner peace — arise from beyond the mind"
—Eckhart Tolle

Today, I have a Visual Inspiration for you, featuring one of my favorite quotes by author Eckhart Tolle. It is a truly powerful and profound statement.  Wouldn't you say?
Yesterday, I featured a wonderful video presentation of Eckhart Tolle talking about joy and presence. I hope you watched it!
I am a HUGE fan of Eckhart Tolle's work and teachings. His book, The Power of Now, changed my life, as I am sure it has for many others — Perhaps you, too!
If you're not familiar with his teachings, I strongly suggest you check out his three books:
I hope you enjoy today's Visual Inspiration ♥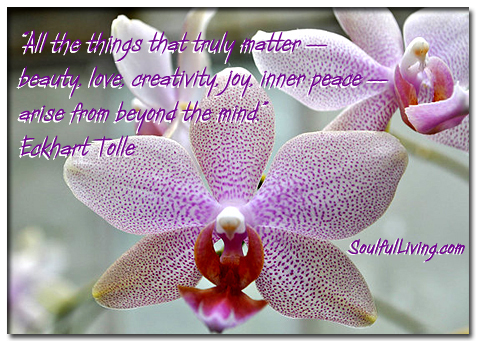 Photograph © Copyright 2013 Valerie Rickel. All Rights Reserved.
If you're feeling inspired, please leave a comment below and share your thoughts with our community ♥
And, if you haven't already done so, be sure to pick up your special package of inspirational goodness exclusively for our Daily Soul Retreat Newsletter Subscribers — a "Soul Retreat Gift Pack" filled with over $300 worth of Ecourses, Ebooks, Audio Workshops and Meditations, donated by our awesome SoulfulLiving.com authors. If you aren't already subscribed, click here for all the details. If you are already subscribed, watch your Daily Soul Retreats for all the details.
Wishing you a joyful and mindful day!!
Soulfully,
Valerie Rickel, Founder
SoulfulLiving.com