There is no path to Happiness. Happiness is the path.
There is no path to Love. Love is the path.
There is no path to Peace. Peace is the path.
-Dan Millman
It's my pleasure to share a guest article with you today by best-selling author Dan Millman. Dan is well known for his "Way of the Peaceful Warrior" work and his book by the same name, as well as his other best-sellers, "The Life You Were Born to Live," "Living on Purpose," and his newest book, "The Four Purposes of Life: Finding Meaning and Direction in a Changing World."
Today, I offer you a double dose of inspiration. I've created a Visual Inspiration for you, too, with one of my favorite quotes by Dan Millman. Enjoy! ♥

 "Living On Purpose"
by Dan Millman
Years ago, I met a peaceful warrior in an all-night gas station. His name was Socrates, and he once told me, "I've noticed three kinds of people in this world: those who make things happen, those who watch what happens, and those who wonder what happened." Back then I was a skilled athlete, making things happen. But outside the gym — when I faced real-world dilemmas and decisions — I mostly watched and wondered. And I was not alone.
Many of us live our lives by accident — stumbling into relationships, wandering into careers, searching for meaning, hoping and praying that we'll get lucky in love, find our fortune, and stay healthy. I spent years like this, living at random, until I learned to live on purpose. My education began the first time I asked Socrates a question. He shrugged his shoulders and said, "It's the House Rules." The "House" is Life, the Tao, the Universe, Reality; the "Rules" are universal laws or guiding principles. The House Rules presented in my book, "Living On Purpose," — distilled lessons from the school of life — provide reliable strategies for living wisely and well.
Purposeful living embraces both reason and faith. Reason provides clear goals, while faith and intuition teach us to trust the process of our lives. The Taoist sages remind us that flexibility overcomes rigidity — and just as a rushing stream flows around obstacles, so must our purposes adapt to the changing tides of life. Therefore, the House Rules are not rote formulas, but flexible reminders. In living on purpose and acting on principle we become like bamboo — strong yet supple — yielding to the forces we encounter, then snapping back on track.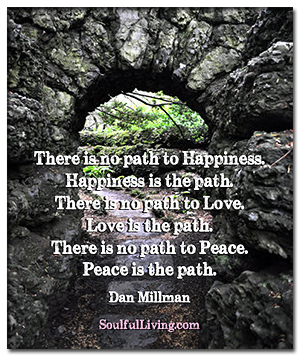 My responses seem to come not so much from me, but through me. I do not, however, channel any discarnate warrior-sages from the fifth dimension, chat with God, or transcribe the dictations of astral guides. I claim only a gift of expression, an intuitive ability to apply the House Rules, and an open heart. As the proverb goes, "There are no secrets where there's love."
Test these House Rules in your own experience; tailor them to fit your particular circumstance. You will find that they point the way to greater productivity, creativity, and fun, and show us how to live a more spiritual life in the material realm… Continue Reading "Living on Purpose"
Copyright Dan Millman. All Rights Reserved.
I'd love to hear your thoughts and comments on today's article! Please scroll down and leave your comments below.
And, if you haven't already done so, be sure to pick up your special package of inspirational goodness exclusively for our Daily Soul Retreat Newsletter Subscribers — a "Soul Retreat Gift Pack" filled with over $300 worth of Ecourses, Ebooks, Audio Workshops and Meditations, donated by our awesome SoulfulLiving.com authors. If you aren't already subscribed, click here for all the details. If you are already subscribed, watch your Daily Soul Retreats for all the details.
Wishing you a beautiful and purposeful day!!
Soulfully,
Valerie Rickel, Founder
SoulfulLiving.com