"Imagine your life as a painting and yourself as the artist.
Every morning when you awaken, pick your color palette
and paint the life of your dreams."
—Valerie Rickel
I'm excited to offer you a Life Purpose-themed "Visual Inspiration" to help inspire your day!
The quote I've chosen for today's Visual Inspiration is very meaningful to me, as I have recited some iteration of these inspirational words to myself as an affirmation, nearly every morning for the last 13 years, since leaving my full-time career to pursue my greater purpose and passions.
We are each the creator of our life. In every moment, in every second, every single day, we are creating ("painting/writing") the story of our life.
Every new day offers us a new opportunity to create a life of our dreams. A life of purpose, passion – a life in which we are honoring our Higher Calling and living our Highest Good.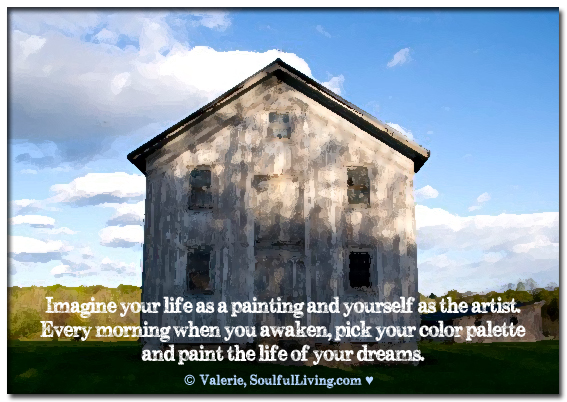 But, sometimes, it doesn't seem that way — it can feel as though our life and our destiny are not in our hands, within our control. We may feel powerless — even blocked by obstacles that feel impenetrable. But, there is always an answer, always a solution, always a way — a path or steps we can take to move forward with our lives. Perhaps a dear friend or even a kind stranger will help us.
Creating a purposeful life requires work and may not always be easy. While other times, we may find that things flow and unfold effortlessly. We just need to trust and know that if we are moving toward our Highest Good, doors will open, the right people will show up, and we will find the strength and courage to do the work and make the necessary changes in our life to create our purposeful life.
The photo (top right, in the collage) that I "Photoshopped" to create ("paint") today's Visual Inspiration is very special to me. This beautiful white-washed barn stands with several other gorgeous old structures on a lovely and very isolated rural road in the middle of rural New York. It is a place I like to frequent often. There is a sacredness to this spot that I felt the very first time I discovered it. I knew immediately that I needed to tread lightly, honor and give thanks to the land, as I traveled down this special road. This feeling rushes over me every time I visit, during every season, to photograph the beauty there. And, I am often moved to tears.
When I visit this sacred spot and photograph the beauty there, I am living my bliss. I feel it in my body. I feel it in my heart. I feel it in my soul. I just know. This is my passion, my calling, my purpose — to be living in this beautiful region — photographing the amazing beauty that I find here — the beauty that makes my heart sing!
It took courage — a LOT of it — to make the move from Los Angeles, where I lived my whole life, to rural Upstate New York three years ago. It was a move I had wanted to make for nearly a decade. I had a lot of "walls" (obstacles) to break through/go around and a LOT of work to do. And, I may not have ever been able to make the move, had it not been for a wonderful friend, who was a great inspiration, and who made the move possible for me.
I had a dream — a vision for my life — and, while it took quite a number of years to make it come true, I did, indeed, create the life of my dreams.
And, I believe you can, too.
What makes your heart sing? What brings you bliss? What moves you so deeply that it brings you to tears? What does the "life of your dreams" look like?
What can you do today? What colors and brushes can you pick up today, as the artist of your life — to begin painting this picture for your life — to create a life so magical that you will pinch yourself every morning when you arise? A life that brings tears of happiness to your eyes and makes your heart and soul sing with joy. Whatever the answer may be, just do it — DO IT TODAY!
© 2013 Valerie Rickel. All Rights Reserved.
———
I'd love to hear what will you do today — what colors and brushes you will choose – to begin painting the life of your dreams. Leave your comments below!
And, if you haven't already done so, be sure to pick up your special package of inspirational goodness exclusively for our Daily Soul Retreat Newsletter Subscribers — a "Soul Retreat Gift Pack" filled with over $300 worth of Ecourses, Ebooks, Audio Workshops and Meditations, donated by our awesome SoulfulLiving.com authors. If you aren't already subscribed, click here for all the details. If you are already subscribed, watch your Daily Soul Retreats for all the details.
Wishing you a blissfully creative and purposeful day!!
Valerie Rickel
Founder and Soul
SoulfulLiving.com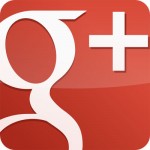 P.S. If you missed the Introduction to Our "All New" Daily Soul Retreat, you can read it here.