Today, I offer you a little something special in honor of our gorgeous July Full Moon… It's a "Visual Inspiration" to help inspire your day… and night!
I had fun creating this Visual Inspiration. This photo was taken last summer at a lake in the Adirondacks of New York. A friend and I were driving home after dinner one evening, and, when I caught a glimpse of the reflection of the full moon on the water between the trees that lined the road, the photographer in me shouted out to my friend, "Stop the truck!!" We walked quite a distance to find just the right vantage point for these photos. A city girl by nature, I was in awe of the moon's beauty reflected in the peaceful, still lake that night. Blissful!
Happy Full Moon! Enjoy ♥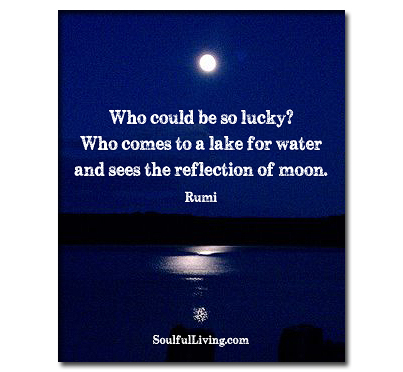 Here are some fantastic books on the subject of the moon:
"Moon Watchers Companion" by Donna Henes
"The Moon Book: Fascinating Facts about the Magnificent Mysterious Moon" by Kim Long
"The Moon: Myth and Image" by Jules Cashford
"The Moon" by Michael Carlowicz

If you're feeling inspired, I'd love to have you leave a comment below!
And, if you haven't already done so, be sure to pick up your special package of inspirational goodness exclusively for our Daily Soul Retreat Newsletter Subscribers — a "Soul Retreat Gift Pack" filled with over $300 worth of Ecourses, Ebooks, Audio Workshops and Meditations, donated by our awesome SoulfulLiving.com authors. If you aren't already subscribed, click here for all the details. If you are already subscribed, watch your Daily Soul Retreats for all the details.
Wishing you a blissful and purposeful day!!
Soulfully,
Valerie
© 2013 Valerie Rickel. All Rights Reserved.