"The two most important days in your life are the
day you are born and the day you find out why."
―Mark Twain
Today, I offer you a Visual Inspirational Quote in keeping with our theme of the month, "Life Purpose," to help inspire your Friday and your weekend!
I had fun creating this Visual Inspiration. I took this photo in the Adirondacks of New York State last summer. It was a warm, balmy summer day, and I was living up the road from this lake in a cabin for the summer. A friend and I were enjoying a lovely, sunny afternoon at this quiet beach cove when suddenly the sky changed, got moody, and then cast the most marvelous rays of pink light on the lake that transformed the water into satin. I can still remember the peaceful, calm, stillness of the moment as if it were yesterday. I felt a shift — a transformation inside of me. It was the perfect day — an important day — an Eternal moment in time.
I love this quote by Mark Twain, so I couldn't resist putting the two together. I hope you enjoy today's Visual Inspiration!
I'd love to hear about an important and meaningful day in your life… What made the day special for you? Any insights into "why you are here"? Leave us a comment below and share your thoughts with our community ♥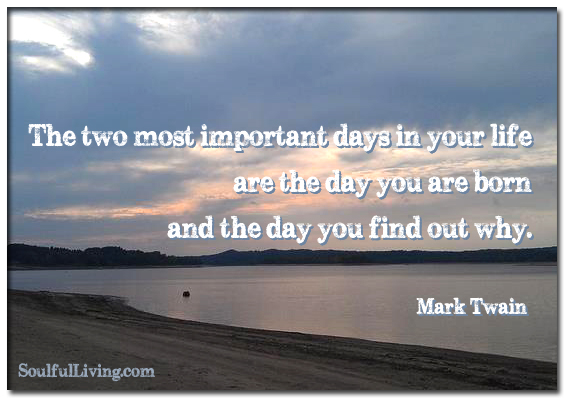 And, if you haven't already done so, be sure to pick up your special package of inspirational goodness exclusively for our Daily Soul Retreat Newsletter Subscribers — a "Soul Retreat Gift Pack" filled with over $300 worth of Ecourses, Ebooks, Audio Workshops and Meditations, donated by our awesome SoulfulLiving.com authors. If you aren't already subscribed, click here for all the details. If you are already subscribed, watch your Daily Soul Retreats for all the details.
Wishing you a perfect and purposeful day!!
Soulfully,
Valerie
© 2013 Valerie Rickel. All Rights Reserved.