Today, I offer you something a little different for our Daily Soul Retreat. In keeping with our theme of the month, Life Purpose… It's a "Visual Inspiration" to help inspire your day!
I had a lot of fun creating this Visual Inspiration. Deeply inspired by the message of this quote by author Justine Willis Toms, I set about finding just the right photograph and type font to bring this quote to life and convey its beautiful meaning.
Justine Toms with her Husband, Michael Toms, are authors of the classic book, True Work: Doing What You Love and Loving What You Do. Michael passed away earlier this year. He and Justine are co-founders of the highly acclaimed radio program, New Dimensions, which still broadcasts today and is the longest-running independently produced interview program in the history of public radio, featuring leading-edge thinkers, scientists, artists, healers, ecologists, spiritual leaders, and social architects in award winning, deep dialogues.
I hope you enjoy today's Visual Inspiration… Feel free to share with your friends ♥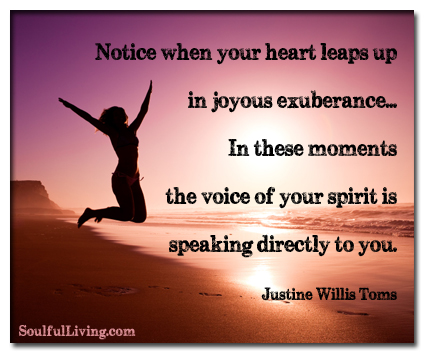 And, if you're feeling inspired, I'd love to have you leave a comment!
Be sure to pick up your special gift of inspirational goodness exclusively for our Daily Soul Retreat Newsletter Subscribers — a "Soul Retreat Gift Pack" filled with over $300 worth of Ecourses, Ebooks, Audio Workshops and Meditations, donated by our awesome SoulfulLiving.com authors. If you haven't yet picked yours up, click here for all the details.
Wishing you a joyously exuberant day!!
Soulfully,
Valerie
© 2013 Valerie Rickel. All Rights Reserved.