"When I let go of what I am, I become what I might be.
When I let go of what I have, I receive what I need."
—Lao Tzu

Happy Tuesday! I'm very excited to share a Visual Inspiration with you today, featuring a wonderful quote about "letting go" by ancient Chinese philosopher and founder of Taoism, Lao Tzu.
These simple, yet profound words are so meaningful… Letting go creates spaciousness in our lives… space for being, Truth, miracles…
I took this photo in the gorgeous Finger Lakes Region of Upstate New York in mid October 2010. This 150′ tall waterfall pours down the side of high hill and meets Main Street in the sweet and unassuming village of Montour Falls.
I recall that later that same year, I was treated with the opportunity to drive the bridge above the waterfall to visit a Christmas tree lot to buy my holiday tree. I love Upstate New York so much! There is astounding natural beauty, found around nearly every corner, to set your heart a flutter.
I hope today's Visual Inspiration brings you some autumn joy and the courage to "let go." Enjoy ♥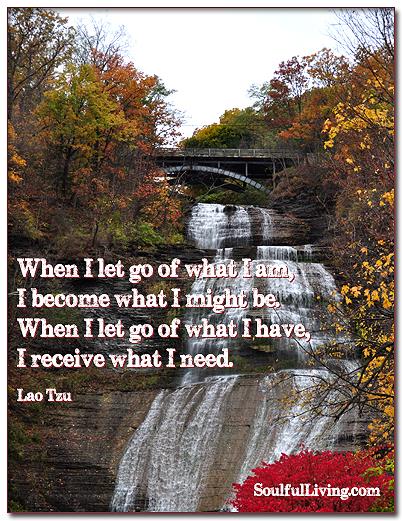 If you're feeling inspired, please leave a comment below and share your thoughts with our community ♥
And, if you haven't already done so, be sure to pick up your special package of inspirational goodness exclusively for our Daily Soul Retreat Newsletter Subscribers — a "Soul Retreat Gift Pack" filled with over $300 worth of Ecourses, Ebooks, Audio Workshops and Meditations, donated by our awesome SoulfulLiving.com authors. If you aren't already subscribed, click here for all the details. If you are already subscribed, watch your Daily Soul Retreats for all the details.
Wishing you a beautiful day!!
Soulfully,
Valerie Rickel, Founder
SoulfulLiving.com