"Relaxation is the prerequisite for that inner expansion that allows a person to express the source of inspiration and joy within."
—Deepak Chopra
Today, I'm excited to have the opportunity to share a brief video by Deepak Chopra with you – his "Happiness Prescription." In this video, Deepak discusses the ten keys to a happy life using modern insights from Buddhist wisdom. We learn how to live life mindfully, joyfully and with effortless spontaneity.

"The Happiness Prescription" with Deepak Chopra
(Note that this is a "preview" video available at YouTube. The full video can be viewed at GaiamTV.) I've just signed up for their 10-day free trial and am excited by all their offerings!
I've created a Visual Inspiration for you today, too. Enjoy!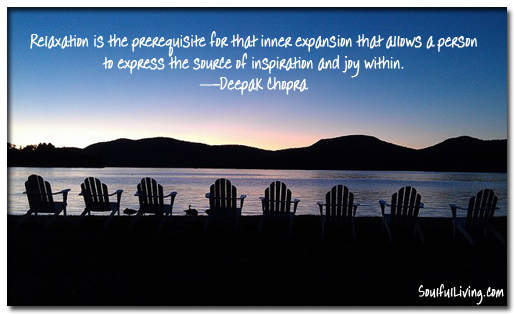 If you're feeling inspired, I'd love to have you leave a comment below…
And, if you haven't already done so, be sure to pick up your special package of inspirational goodness exclusively for our Daily Soul Retreat Newsletter Subscribers — a "Soul Retreat Gift Pack" filled with over $300 worth of Ecourses, Ebooks, Audio Workshops and Meditations, donated by our awesome SoulfulLiving.com authors. If you aren't already subscribed, click here for all the details. If you are already subscribed, watch your Daily Soul Retreats for all the details.
Wishing you a joyful and mindful day!!
Soulfully,
Valerie Rickel, Founder
SoulfulLiving.com
© 2013 Valerie Rickel. All Rights Reserved.