"Let today be the day you learn the grace of letting go
and the power of moving on."
—Steve Maraboli

Happy Monday! I came across this wonderful quote by author and speaker Steve Maraboli over the weekend and knew immediately that it would be today's Visual Inspiration!
I agree wholeheartedly with Steve. It is my prayer that we may always know "grace" as we let go and feel the "power" in moving forward with our lives.
I took this photo last year in the lovely Adirondack Mountains of NY. I was on my way home from visiting a friend there and spotted a kayaker out on the water. I pulled off the road quickly, as I thought the scene would make for a wonderful photograph. And, as I stood there, watching the kayak move further and further down the river, I recall how the feelings of "freedom, courage, and a desire to move on with my life" washed over me like the powerful current of the river. I had the answer to a question I was seeking, and I was very grateful.
I hope that today's Visual Inspiration inspires a "grace" and a "power" in you to let go and move on…
Enjoy ♥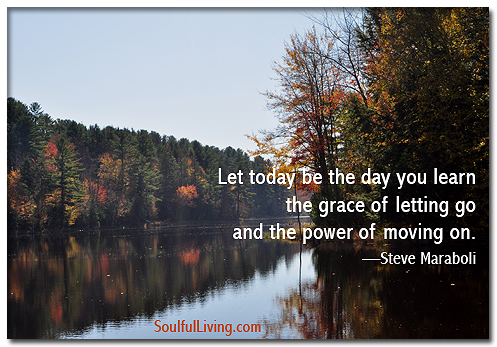 If you're feeling inspired, please leave a comment below and share your thoughts with our community ♥
And, if you haven't already done so, be sure to pick up your special package of inspirational goodness exclusively for our Daily Soul Retreat Newsletter Subscribers — a "Soul Retreat Gift Pack" filled with over $300 worth of Ecourses, Ebooks, Audio Workshops and Meditations, donated by our awesome SoulfulLiving.com authors. If you aren't already subscribed, click here for all the details. If you are already subscribed, watch your Daily Soul Retreats for all the details.
Wishing you a joyous day!!
Soulfully,
Valerie Rickel, Founder
SoulfulLiving.com