"Holding on is believing that there's only a past;
letting go is knowing that there's a future."
–Daphne Rose Kingma

I enjoyed creating this Visual Inspiration for you today — in keeping with our theme of the month, "Letting Go." It features one of my favorite quotes by Daphne Rose Kigma, author of many best-selling books, including "True Love," "Loving Yourself: Four Steps to a Happier You," The Ten Things to Do When Your Life Falls Apart," and "When You Think You're Not Enough."
I've paired her quotation with a favorite photo of mine taken a few years ago, in the lush, rolling hills and valleys of the Finger Lakes Region of Upstate New York.
I hope you enjoy it ♥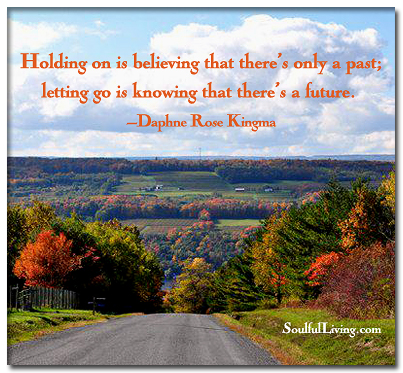 And, if you haven't already done so, be sure to pick up your special package of inspirational goodness exclusively for our Daily Soul Retreat Newsletter Subscribers — a "Soul Retreat Gift Pack" filled with over $300 worth of Ecourses, Ebooks, Audio Workshops and Meditations, donated by our awesome SoulfulLiving.com authors. If you aren't already subscribed, click here for all the details. If you are already subscribed, watch your Daily Soul Retreats for all the details.
Wishing you a beautiful day!!
Soulfully,
Valerie
© 2013 Valerie Rickel. All Rights Reserved.