"I am able to close my eyes and generate the feeling of total peace anywhere and anytime."
—Mary Maddox
Today, I have a Visual Inspiration for you, featuring a beautiful quote by Mary Maddox. These words inspire me so much.
When I close my eyes and aspire to attain a feeling of peace, I try to visualize a beautiful, serene snapshot of nature in my mind, such as this heavenly autumn scene I captured on a country road in Central New York last year. Aah, peaceful bliss!
I hope today's Visual Inspiration brings you peace! Enjoy ♥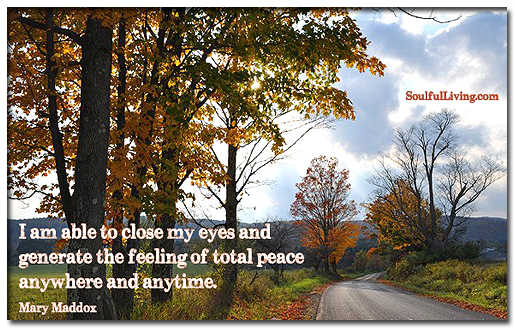 If you're feeling inspired, please leave a comment below and share your thoughts with our community ♥
And, if you haven't already done so, be sure to pick up your special package of inspirational goodness exclusively for our Daily Soul Retreat Newsletter Subscribers — a "Soul Retreat Gift Pack" filled with over $300 worth of Ecourses, Ebooks, Audio Workshops and Meditations, donated by our awesome SoulfulLiving.com authors. If you aren't already subscribed, click here for all the details. If you are already subscribed, watch your Daily Soul Retreats for all the details.
Wishing you a very peaceful day!!
Soulfully,
Valerie Rickel, Founder
SoulfulLiving.com