Yet, every now and then,
when the world sits just right ~
that gentle breath of heaven
fills my soul with delight,
and I see,
a turning of a leaf
dancing in the autumn's sun,
and a brilliant shade of crimson
glowing when the day is done…
–Hazelmarie Elliott
Happy Monday! Today is our final day of exploring "Inner Peace," so I selected this lovely quote for today's Visual Inspiration, because it blends the theme of autumn with the feelings of inner peace, bliss, and delight so perfectly! It certainly describes how my soul feels when I gaze upon the beautiful pageantry of fall colors in the NorthEast (and in Upstate New York, in particular).
This photo was taken last week, on the first day of autumn, minutes before the official start of autumn this year, at 4:44 pm EDT, September 22nd. It was one of the last photos I got to take that day, as I took it just prior to my unfortunate injury. Hence the title, "Before the Fall." My friend and I had driven to the lake in Downtown Inlet in the Adirondack Mtns — "Fourth Lake," in the chain of "Fulton Lakes," to be exact, to celebrate the beginning of the season with a special meditation on the pier. Inlet is a perfect little mountain town, just a little north of Old Forge, where there is no cell phone signal and a population of just 333. A blissful spot to celebrate autumn… before or after a fall…
I hope you enjoy the Visual Inspiration ♥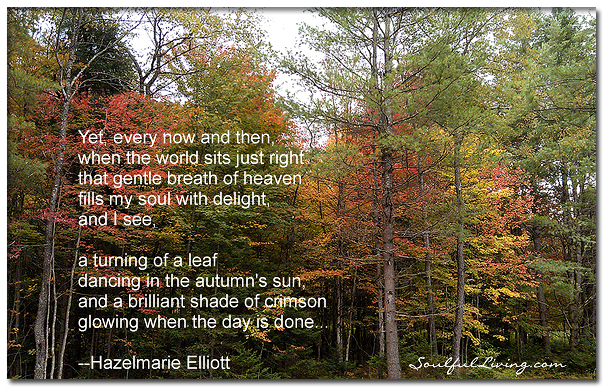 If you feel inspired, I'd love to have you leave a comment below!
And, if you haven't already done so, be sure to pick up your special package of inspirational goodness exclusively for our Daily Soul Retreat Newsletter Subscribers — a "Soul Retreat Gift Pack" filled with over $300 worth of Ecourses, Ebooks, Audio Workshops and Meditations, donated by our awesome SoulfulLiving.com authors. If you aren't already subscribed, click here for all the details. If you are already subscribed, watch your Daily Soul Retreats for all the details.
Wishing you a peaceful, tranquil day!!
Soulfully,
Valerie
© 2013 Valerie Rickel. All Rights Reserved.