"People have a hard time letting go of their suffering.
Out of a fear of the unknown, they prefer suffering that is familiar."
—Thich Nhat Hanh

Happy Thursday! I found this very powerful quote by Thich Nhat Hanh and knew I needed to create a Visual Inspiration with it.
I took this photo last autumn, right around this same time of the year, when the leaves were at their beautiful peak, in the Central Leatherstocking region of Upstate New York — A gorgeous area filled with quaint towns and villages, a lovely lake, loads of charm and history, and baseball, too! Cooperstown and the Baseball Hall of Fame are not far from where I took this photo.
I hope that today's Visual Inspiration brings you the courage to let go of any "familiar" suffering you may be enduring, and may it offer you strength to move forward and step into the unfamiliar and wonderful world of the unknown… Enjoy ♥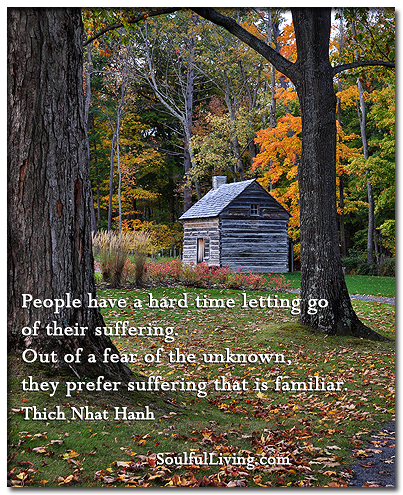 If you're feeling inspired, please leave a comment below and share your thoughts with our community ♥
And, if you haven't already done so, be sure to pick up your special package of inspirational goodness exclusively for our Daily Soul Retreat Newsletter Subscribers — a "Soul Retreat Gift Pack" filled with over $300 worth of Ecourses, Ebooks, Audio Workshops and Meditations, donated by our awesome SoulfulLiving.com authors. If you aren't already subscribed, click here for all the details. If you are already subscribed, watch your Daily Soul Retreats for all the details.
Wishing you a courageous day!!
Soulfully,
Valerie Rickel, Founder
SoulfulLiving.com