20th Anniversary Issue
"We have to learn to be our own best friends because we fall too easily into the trap of being our own worst enemies."

—Roderick Thorp
It has been said that if you treat yourself well, the world will treat you even better. Here are some ways to embrace self-esteem and self-love.
1. Create a Self-Love "Curriculum"
Lack of self-esteem can grab hold in times of stress and challenge, and self-loathing is fueled by exhaustion and hopelessness. Self-love can be reborn by making a commitment to add life-affirming activities to daily life. It is crucial that we nourish ourselves–body, mind, and spirit. This does not mean going to a spa every few years. It has to be blended into our lifestyles and treated with as much importance as a doctor's appointment or worship service.
Many of us are very generous with those around us. We give of ourselves to friends, family, coworkers. We twist ourselves into pretzels to accommodate the needs of others. But when it comes to ourselves, we can be stingy.
The First Step: Chart a course to improved self-image that stimulates all the senses. This will fill you with a sense of hopefulness and potential! Make a list of 10 things that will enhance your feelings of self-esteem. Incorporate everything from meditation and prayer, to taking yourself out on dates, to activities that bring you joy, and enhance your well-being on all levels. Above all, "follow your bliss"!
2. Redefine the Word 'Selfish'
What if Selfish became self-ish? Try taking this word, which has a negative connotation, and giving it a positive spin. It is time to be a little more self-ish!
The First Step: There is a Kabbalistic tradition that tells us to take each word and imbue each letter with a new, fuller meaning. Try this on for size:
S Nurture your SPIRIT.
E ENJOY moments alone.
L LOVE yourself.
F Keep FIT and FEEL good.
I Make your unique needs IMPORTANT.
S SHOWER yourself with gifts.
H Be HAPPY and open-HEARTED.
3. Replace Self-Defeat with Self-Love
Being kind to yourself is a healthy habit to get into. Work to release feelings of regret, angst, fear, and anxiety (with the help of a therapist or coach, when needed), and instead fill up with love, joy, possibility, and spirit. For example, does your current morning meditation include sipping coffee while berating yourself for a goof-up at work, worrying about something that happened between you and a friend, or giving yourself guilt because of that chocolate cake you ate? If someone else were beating up on you the way you beat up on yourself, you'd fight back. In this case, you have to learn to fight the urge to defeat your own purpose in life and replace repetitive, negative thinking with that which uplifts you heart and soul.
The First Step: Begin with a prayer to be filled with Divine Presence and possibility―positive, hopeful thoughts and ideas. Create a new intention that if you slip into negative self-talk you will switch your focus. Try a special mantra or affirmation that can redirect your energy. Some possibilities to get you started: I am one with God. I am a good person. Light fills my being. I radiate good energy and thoughts.
4. Write a New Mission Statement
Loving ourselves can be a learning process for some of us, and we all learn best when the topic we are dealing with is presented to us in plain language.
The First Step: Craft a "Self-Nurturing Mission Statement" for your life. The statement should put forth the intention and vision for a fulfilling life in which honoring yourself is key. Your mission statement might look like this:
I am a beautiful person, and I have so much to share with the world. Honoring myself and my needs is my first priority. My life is enhanced daily by simple acts of self-nurturing, and my world is in balance. I have excellent boundaries, and I wake up each morning with a deep sense of self-love, self-esteem, and the knowledge that I deserve good things in my life. It is my birthright to be happy, successful, and loved.
5. Choose a Personal Theme Song
We all need a self-love anthem, a song that makes us feel good about ourselves and snaps us into a state of higher self-esteem and hopefulness―immediately.
Some people come alive when they hear Frank Sinatra. Some relate to an awesome gospel song or spiritual hymn. Others connect to singers such as Aretha Franklin (and her song R-E-S-P-E-C-T) or to Natasha Beddingfield (and her song, "Unwritten.") Or there are so many anthems of self-love from a newer generation of singers who sing about self-love and self-respect.
The First Step: Pick a personal theme song that makes your heart sing and always brings a knowing smile to your face. Music has the power to lift our deepest spirits as well as our self-esteem.
6. Literally Bathe in Self-Love
We all need to recharge and regenerate ourselves. And there is nothing like giving yourself some "me time" in a warm, wonderful bath. Use it as a way to clear your mind, reclaim yourself, heal, and transmute blues and blahs.
The First Step: Draw a bath. Play relaxing and sensual music. Slip into the warm water, daydream, and allow yourself to bask in the energy of love. It truly creates an impression in your own mind and spirit that you are someone who deserves royal treatment and who is willing to receive it! You can power your bath with your own special salts and scents, or use these special formulas:
1. Basil Bath―Just a tablespoon or two boiled in a tea holder and poured into the bath promises a sense of well-being. Studies show that basil relieves stress, and the Hindu culture used basil to stimulate fertility and good fortune.
2. Rose Bath―Using rosewater and fresh rose petals, this is a bath the ancient Romans used to evoke the love goddess, Venus.
3. Salty Sea Bath―Conjure the healing of the ocean with one or two cups of coarse sea salt, which will restore your electrolytes. Feeling achy? Use some Epsom salts too.
Fully immerse yourself to clear your energy field. Dunk nine times and say a prayer with each. At the most primal human level, a nice warm bath gives you a chance to get a new perspective on life.
7. Perform a Self-Love Ceremony
When I teach relationship readiness seminars, I have people look into a mirror into their own eyes and recite vows to themselves.
The First Step: The following is an abbreviated sample ceremony, just to get you started:
1. Light a candle and bring light into the room.
2. Say a brief prayer: Divine Spirit of all there is, please fill this place with your sacred presence. Support me in my efforts to express my love for self. Help me see my own divinity. Amen.
3. Sit down and meditate on the qualities you most honor in yourself.
4. Write down three vows that are personally meaningful to you: " I adore you…I love your strength and wisdom…I will promise to love and honor you…, etc."
5. When you feel ready, look into the mirror and connect with your own eyes and read the vows to yourself. It may be uncomfortable at first, but you can transcend that. Your self-love vows will send a powerful message to your subconscious mind.
6. Celebrate your union with self with a sip of something sweet.
7. Play celebratory music.
8. Dance…and feel the love.
Need a shorter version? Every time you pass a mirror, smile and look deeply into your own eyes.
In Summary: Ultimately, the more we love ourselves, the more love we can share with those around us. And the more love we bring to our families and friends, the more love we add to our world.
This article is excerpted from Rev. Laurie Sue's forthcoming book.
Copyright 2020 Laurie Sue Brockway . All Rights Reserved.

Share this Article with Your Friends…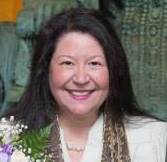 Rev. Laurie Sue Brockway is widely recognized as an expert on interfaith, intercultural, and highly personalized nondenominational weddings. She also specializes in helping couples and families manage wedding conflicts and reduce wedding stress. She is a New York City wedding officiant and interfaith minister who is known for her warm, loving and creative approach to blessing couples of all backgrounds. She has guided thousands of couples on their journey to the altar and beyond.
She is author of many books, including Your Perfect Wedding Vows, Your Interfaith Wedding, The Goddess Pages, Goddess Lessons, and Lakshmi Magic. She has also specialized for many years in writing about women's spirituality, emotional wellness, psychology and self-care and is working on a series of comfort and self-care books geared toward caregivers and in support of women in post-caregiving part of the journey. Rev. Laurie Sue celebrates her 21st year as an ordained minister, as Soulful Living celebrates 20 years online. She was the "Soulful Love" columnist at SoulfulLiving.com for many years.