20th Anniversary Issue
At age 35, I came down with a mysterious and debilitating illness and was bed-ridden for many weeks. Doctor's had been unable to correctly diagnosis or cure my condition. In fact the antibiotics that had been prescribed were making matters worse. I kept getting side effects and sent to specialists for treatment of other symptoms, like sinus and vaginal infections. This was in the 70s, long before the public knew about the consequences of indiscriminate use of antibiotics.
It had become increasingly clear that the medical professionals at my HMO were making matters worse. As a self-supporting professional in the arts and early education and the single mother of two young daughters, I was soon plagued with anxiety and confusion. I have to get well and get back to work, I thought.I have my kids to take care of. I can't rely indefinitely on my mother and on friends for help.Desperate for some answers and for emotional support, I turned to a close friend and confidante. She recommended her therapist, Bond Wright. Ironically, she turned out to be the right choice.
Bond educated me about the indiscriminate use of pharmaceutical drugs. She gave me a copy of the Physician's Desk Reference where I learned about the side effects of the drugs I had been given. Bond also helped me emotionally through body-based somatic techniques for releasing my anger and frustration about the inadequate and misguided medical treatment I had been receiving. She also referred me to a woman physician who believed in preventive medicine and who really listened to her patients.
Bond also introduced me to my Inner Child through messages written with my non-dominant hand (the hand I don't normally write with). This would become life changing. This Child Within had lots to say. In my personal journal, between therapy sessions, she spontaneously poured out her feelings of fears, grief, anger and more.  Sometimes she drew pictures first, at other times she just used words. Often the printing or script was barely legible. I always felt better after hearing what she had to say.
It was the Inner Child, drawing and writing with my non-dominant hand, who led me to my innate body-mind wisdom and to spiritual inner guidance I had not realized was there. Interestingly, when my Inner Guide wrote with my non-dominant hand, the script was beautifully formed and completely legible.  Within three months of being in therapy and journaling on my own between sessions, I experienced complete recovery without medication. During that time of healing, it dawned on me that the Biblical words, "A little child shall lead them," was true of the inner life as well. My Inner Child had led me to the wisest, most ancient truths within my body wisdom and inside my very own heart.
This journey through illness and healing led me to a new career as an art therapist, originator of the Creative Journal and Inner Child/Inner Family work, and author of many books, including Recovery of Your Inner Child.
In my second book, rereleased in a new edition in 2019,The Power of Your Other Hand: Unlocking creativity and inner wisdom through the right side of the brain (Conari Press), I tell my story of healing and recovery in depth. Here are some examples of words from my Inner Self, my source of wisdom and guidance. These words were written in my personal journal by my non-dominant hand.
Deep In the Recesses of Everyone's Mind
lives the knowledge
that God lives within the Self.
We try to deny this knowledge,
we try to ignore it,
we try to forget it.
Yet no matter how hard we try to hide it,
this knowledge, this truth emerges.
We do everything in our Power
to avoid the truth.
We've separated ourselves from others,
from our real Selves,
from nature.
You need me to remind you of the truth.
Truth is within you.
It is never any farther
away than your
beating heart.
You don't have to "think"
about it or go outside
searching for it.
You always contain it.
In the last chapter of The Power of Your Other Hand, I also share the following exercise intended to help you communicate directly with your own voice of wisdom, your Inner Self or Higher Power. Whatever name you wish to call it is fine. And if you feel it is unnamable, that's fine, too.
Focus on your experience of God or the Greater Power as you know it. Feel its presence or its energy. It may appear as a Christ energy or the presence of a particular spiritual teacher or leader, such as Buddha. Tune in to the image or presence that you experience as a guide to your own divinity.
Write a dialogue with this divine presence. Give it a name if you wish. Let the divine presence write with your non-dominant hand. With your dominant hand, ask questions or say anything you wish to express to this presence.
When I was completing the manuscript for The Power of Your Other Hand, I asked my Inner Self to tell me what to say. Naturally, I turned to my other hand. Here are the words that came through my non-dominant hand in an easily readable script:
Just say that the deepest
well of inner knowing
and of peace is within
everyone. It can be
reached in stillness,
in quite, and in
solitude.
I am here in everyone
and everything and
the glory of being
human is that you
can know and
experience at-one-ment with
For we are one.
When you are afraid,
lost, doubting – be
still, go inside and
find your True Self.
I will be there – where
I've always been –
waiting for you to
recognize the truth
of who you really
are.
I will speak through
everything that is so
human in you – your
feelings, your wishes,
your body, your
relationships.
(Dominant hand) How do I know I'm not just making you up out of my imagination? How do I know that you really exist?
You will know. If you
don't recognize me at
first, eventually you
will. Sometimes when
you have lost your
way and are far away
from your true self,
you may doubt that I
exist. That is when you
have forgotten who you
really are. But if you
will speak with me,
as you are now, I will
respond. Later on
when you read our
conversation, you will
recognize my realness.
You will see
your own doubting
mind, and you will
feel my essence
and know it to be
yours. You will see
the difference between
your small, fearful,
anxious self and your
true, beautiful and
peaceful Self. And
since you have
written both voices,
you'll realize
that they both came
from you. Then you
will see that the
Highest Truth and
Wisdom resides
within you. Everything
else is illusion. You
will see that you've
had it backwards
all these years.
You though your
self was the little, scared,
confused "character"
that doubts and worries
and defends itself. That
is the figment of imagination.
Thatis the thing you made
up with your mind.
I am the Real You. I
am your True Self
reminding you to
wake up, come home
to the bliss of your
Inner Self.
From The Power of Your Other Hand: Unlocking creativity and inner wisdom through the right side of the brain (Conari Press, 2019)
Copyright 2020 Lucia Capacchione. All Rights Reserved.

Share this Article with Your Friends…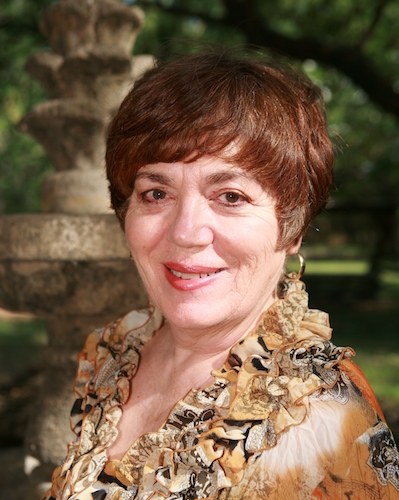 Lucia Capacchione, PhD, ATR, REAT is the bestselling author of The Creative Journal, Recovery of Your Inner Child and The Power of Your Other Hand, and many other books for recovery, healing, and life planning. A registered art therapist, she holds degrees in art and psychology and is a pioneer of self-therapy and healing through journal writing and drawing with the non-dominant hand. Visit her at www.luciac.com.