20th Anniversary Issue
Everyone lives somewhere, and within the span of an incarnation may have any number of different living spaces, owned or not. The following excerpt, from my new book "Beauty Wanted," offers a comprehensive take on this topic through the lens of personal experience. That said, the overall theme of this book is the special relationship Beauty has with Italy and Italians.
 BEAUTY AND STYLE IN THE HOME
 I believe that one of the tasks we come to accomplish in life is to identify the decade, era, or century that most calls out to our personal aesthetics and sense of style, of which, I propose, there is overriding one as well as subsets that could be quite varied. A case in point is the Pflug family home in Gary, Indiana during the 1950's and 60's. When I was young we were neighbors and for a period of time I was also a friend, affording me the opportunity to experience their aesthetics and expressions of beauty up close and personal. All the homes on our street were built circa 1949 with the same floor plan though different details. The first floor consisted of a living room, kitchen, two bedrooms and one bath. There was also another bedroom as well as storage space on the second floor. Architecturally the style was vaguely Cape Cod and substantial in the sense the exteriors were brick.
At a time that was quite conventional by most standards and go-along to get-along seemed paramount, the Pflugs were unique in how they used the square footage of their house. Interior changes included removing part of a wall so that the staircase to the second floor was exposed, removing the door from a closet and inserting display shelves, adding a small addition out from the kitchen to contain the sink, stove and refrigerator thereby making the main part of the kitchen into more of a dining room and finally, removing the wall between the front bedroom and the living room to create a larger living room. All this and they also had an in-ground swimming pool in the back yard, almost unheard of at the time and unique to that neighborhood. They were middle class, probably not all that well-off financially, yet the style and panache associated with these changes and tweaks were nothing short of astounding. The Pflugs danced to their own tune and I feel blessed for having had the opportunity to know them and experience what they created, so different from my own home environment and every other house on the street which, for the most part, remained very "cookie-cutter."
How was their home decorated? In late Victorian style, circa 1880 to 1900, with a few 'modern' touches like a two piece sectional sofa in the living room and Formica top chrome-legged table with matching vinyl-covered chairs in the kitchen. The stage was set in the living room with an electrified pansy-decorated Gone with the Wind lamp atop a spinet piano reflected in the mirror behind it, especially effective at night. Then there was an ornate brass two piece altar of sorts with blue velvet covered shelves between the front door and picture window, full of memorabilia and china, also a chair made of steer horns that no one ever sat on at the foot of the staircase. Interesting wall art too, a pair of framed antique prints entitled "The Lovers" and a pair of stove flue covers depicting sweet Victorian era girls playing in the snow. The main part of the kitchen was very much devoted to displaying 19th century plates and dishes, profusely covering three open shelves along one wall. And there was also an Eastlake style marble top table under those shelves where a large reel to reel tape recorder resided, another 'modern' touch. This home was an anathema to the times, and for those who had been privy to it, something to gossip about or label unconventional.
Family sensibilities and preferences were also on display outside. Most people in the neighborhood had trees in their front yards but the Pflugs had them removed and treated the lawn, which was incredibly lush, with love and affection during each growing season. They also dug up a strip of land to the right of their driveway and each spring planted pansies and petunias, two favorite Victorian era flowers. The front yard held an antique style white wrought iron bench, grape pattern, with a matching chair on the red-painted front porch to the right of the door, while every summer a potted palm stood watch to the left. Potted palms were very exotic in Gary at that time though a common thing to see in 19th century parlors. Mrs. Pflug said she bought the palm in Florida and had managed to keep it alive during the long drive back to Indiana. Mock orange bushes flanked either side of the front porch adding a wonderful fragrance every time they were in bloom. To add a contemporary note to the look the family vehicles which ranged from a cranberry-colored 1954 Buick Century to a white 1958 Chrysler Windsor and finally a lavender metallic 1961 Plymouth Fury during the time I knew them best were often parked on the front part of the driveway rather than next to the house or in the garage so that they could be admired as one drove by. Without a doubt all these models were unique designs of the time and to some extent avant-garde.
And then there is Italy and the sumptuous! Mrs. Pflug was very proud of her Italian made bedspread purchased at Marshall Field and Company, the Chicago go-to department store of the time for impeccable design. I vividly recall its brocade, fringes and muted colors.
In calling forth these memories and sharing them here in detail my point is that we layer our attractions, our expressions of beauty, creating a pleasing and coherent whole that not only works for us but hopefully also inspires others. In my case the Pflugs helped me discover my own proclivities in taste which tend toward the Victorian and classical. In fact, I have wanted to create mini Victorian museums in every place I've ever lived!
So the aesthetic movement, arts and crafts, japonisme, all of which were quite prevalent in design circles during the 1880's, are my favorite looks but I also love the classic, specifically Italian classic, from Roman Empire times to the 19th century and want to have some of those elements in my home environment as well. Allow me to explain why.
As previously mentioned, my first visit to Italy was more than 40 years ago ~ Rome, Florence and Venice, the tourist trail, the must-sees for every American. Stupefacente = amazing! Where do I begin? I was transfixed, enthralled by the beauty I witnessed at every turn and I must say I was very fortunate to have an inside track. In Rome a couple I had been introduced to by a mutual friend in Boston invited me to their home for dinner, a complete experience that went beyond chic. And they also wanted me to join them at the opera later that week to see a production of "Turandot" at the Baths of Caracalla. A feast for the senses, and the perfect venue! And so I did as the Romans do, figuratively speaking, steeping myself in the atmosphere and culture of that city for the balance of my visit.
Florence followed and several days of exploring and museum-going but then Venice and again there was a personal touch. The same Bostonian also introduced me to another friend who was Venetian by birth and an amateur historian. He took me under his wing and planned activities for nearly every day of the dozen or so I was there: excursions to the nearby islands, church adventures, hidden museums such as the one in the Armenian Monastery on Isola di San Lazzaro, and in the Doge's Palace he asked a guard to allow us to step outside on the balcony where Doges once addressed the populace. Of course that could never happen today. He was a repository of information, and I could not have had a more well-informed guide. I did meet his family and the red carpet was rolled out in the form of a delicious dinner and gracious evening. How enchanting was Venice? I was mesmerized and have returned many times since.
When one is in love with a country or place, as I was and still am, we start to magnetize things that reflect that love or interest. Soon after my first visit to Venice I was delighted to find a large Victorian era framed print of the Doge's Palace in a Boston antique store which I immediately bought. Indeed, it still graces a wall in my current home! And this has continued over the years, touches of Italy that have found their way into my personal space, whether in Boston, Palm Springs or San Francisco. Another example is a copy of an oil painting of Puccini on the back of an opera program. I had it framed and Signor Puccini has been part of my environment ever since. Then too, I have numerous copies of Roman and Greek busts and statues salted in, having the overall effect of Victorian splendor combined with classical overtones, the truly antique.
I also found great resonance for my love of Italy in American museums, most notably the Isabella Stuart Gardner Museum in Boston. Mrs. Gardner, art collector and bon-vivant of the late 19th and early 20th centuries, built her home, Fenway Court, in 1903 to showcase her collections of art and antiques, mainly sourced from Italy. The style of the home is Venetian palazzo, built around a central atrium full of flowers and plants, also ancient marble fragments and statuary. Inside one can see treasures galore, from the old masters to 19th century painters of note, such as John Singer Sargent. In her will Mrs. Gardner bequeathed her home to the city with the stipulation that it remains exactly as she left it, including the placement of each object or work of art. During the years I lived in Boston, I went there frequently and always left marveling at what I had just seen, no matter that I had seen it before. For me Fenway Court never ceased to be amazing!
One of the greatest repositories of art of the ancient world, Roman, Greek and Etruscan, is the Getty Museum in Malibu, California. Built to resemble the partially-excavated Villa dei Papyri (Papyrus Villa) in Herculaneum, it houses incredible beauty principally in the form of statuary. While I lived in Palm Springs I was fortunate to have gone there several times, to surround myself with the essence of those civilizations and luxuriate in it. Like visiting Mrs. Gardner's home in Boston, going to the Malibu Getty is the equivalent of being drenched in beauty! And strolling through the peristyle one can easily imagine just how beautiful the original villa was and that is before going inside to see the collections which are truly magnificent.
Of course every time I return to Italy, I am continually inspired to drink in the beauty that surrounds me. Not only visually, but viscerally! And at home, I continue to tweak my environment and presentation as my aesthetics evolve, a never-ending process! In fact, here is something I learned studying astrology: the concept of progressed moon. We are born with a specific moon sign which plays an important role in our taste, but approximately every 2.5 years that moon placement "progresses" to the following sign. This means that we will periodically notice ourselves being attracted to different forms of beauty and may even want to redecorate, or at least change something about how we present ourselves to the world. This is also true for color preference.
Here are a few thoughts on décor. It should be a little surprising and possibly even extravagant, especially if you have the means. But money does not need to be part of the equation. Rather, it's good taste and a penchant for playing with your environment in constructive and creative ways. And no matter how limited our budgets are, we can always dig up a few dollars for something that is going to brighten our days. Having worked in the antique auction industry I can say with certitude that venue holds a lot of promise for what I am proposing. But we can also go to thrift stores and estate sales! According to Rudolph Valentino, "we should never give up refining our living spaces. Why? Because it's fun and helps us to maintain equilibrium, until our 'day' is done. See the beauty in all things; go to museums as often as you can; drench yourself in the bounty of man and nature. In this way you appreciate the real meaning of aesthetics."
"Effortless houses just don't happen by themselves. All the bits work together to give the story dimension, character, and a past but it's the people in a room that provide the drama." ~ Richard Keith Langham
"It's always the house that decides. To respond, you have to put something of yourself into it." ~ Magda de Smet
"Our personal treasures, what we most resonate with regardless of value, infuse their settings with heart and soul." ~ Anon
"Your home should tell the story of who you are, and be a collection of what you love." ~ Nate Berkus
"If you love something, the idea of it not fitting in is ridiculous." ~ Lisa Fine
"Design an interior like an alchemist who seeks beauty in a perfect formula! Project your dream, for a day or a lifetime! ~ Andrea Perra
"One of the ways I love to absorb beauty is to bask in décor." ~ Wayne Hatford
"The ornament of a house is the friends who frequent it." ~ Ralph Waldo Emerson
(Inscription on the library fireplace in the Mark Twain home in Hartford, Connecticut.)
"The word ornament is most generally used to refer to objects or design elements that give pleasure simply by their presence as an addition to their surroundings. If we had to think of the most likely places we would expect to see ornaments we might first think of the domestic environment: any surfaces or areas that are not in constant use but are looked at and therefore need objects or details on or in them to act as the focus of attention. The concept of ornament may also be applied to what we wear, clothing and jewelry. The highly personalized statement of the choice of an item reveals a great deal of the character of the wearer or the owner of the house, and we know that we judge, and are judged, by such things. Ornament is all around us ~ in our clothes, furniture, buildings, on a dinner plate. Its purpose can be purely decorative ~ a means of giving an object distinction and refinement, or it can have a practical use: molding on a building to disguise joints in construction, braiding on a jacket to hide the fasteners." ~ Michael Snodin and Maurice Howard ~ "Ornament: A Social History Since 1450."
However used, its raison d'être is to enhance beauty and hopefully such efforts will always be much more successful than not.
Mrs. Pflug, my former neighbor, modeled all of the above with the ornaments she chose for every facet of her life!
"Our ability to accessorize or embellish separates us from the beasts." ~ Anon
It is my hope that the ideas and experiences I've shared here inspire you to contemplate your own relationship with the space you call home as well as provide fresh insight on past choices in that arena. Evviva la bellezza! (Long live beauty!)
Copyright 2020 Wayne Hatford. All Rights Reserved.

Share this Article with Your Friends…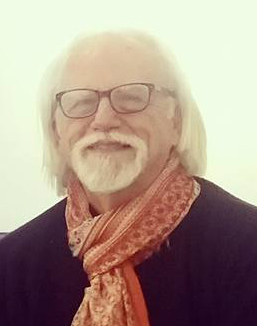 Wayne Hatford, Indiana born and current San Francisco resident, is a teacher and intuitive dedicated to the expansion of consciousness. To that end, he has written five books, four of which are channeled: "Rudolph Valentino The Untold Story," "Going for Excelsior: Thriving in Seniorhood," "Valentino Speaks: The Wisdom of Rudolph Valentino," and "Letters from Janice: Correspondence with the Astral Plane." His newest book, "Beauty Wanted," explores beauty and its relationship with Italy and Italians and, though this time not the star, Valentino makes a number of guest appearances to share his expertise.
A life-long student of metaphysics and transformation, Wayne speaks English, French, Spanish and Italian, the same languages in which Rudolph Valentino himself was conversant. Formerly a public school teacher, he is also an expert in Victorian decorative arts and has had extensive experience in the antique auction industry as a personal property appraiser.